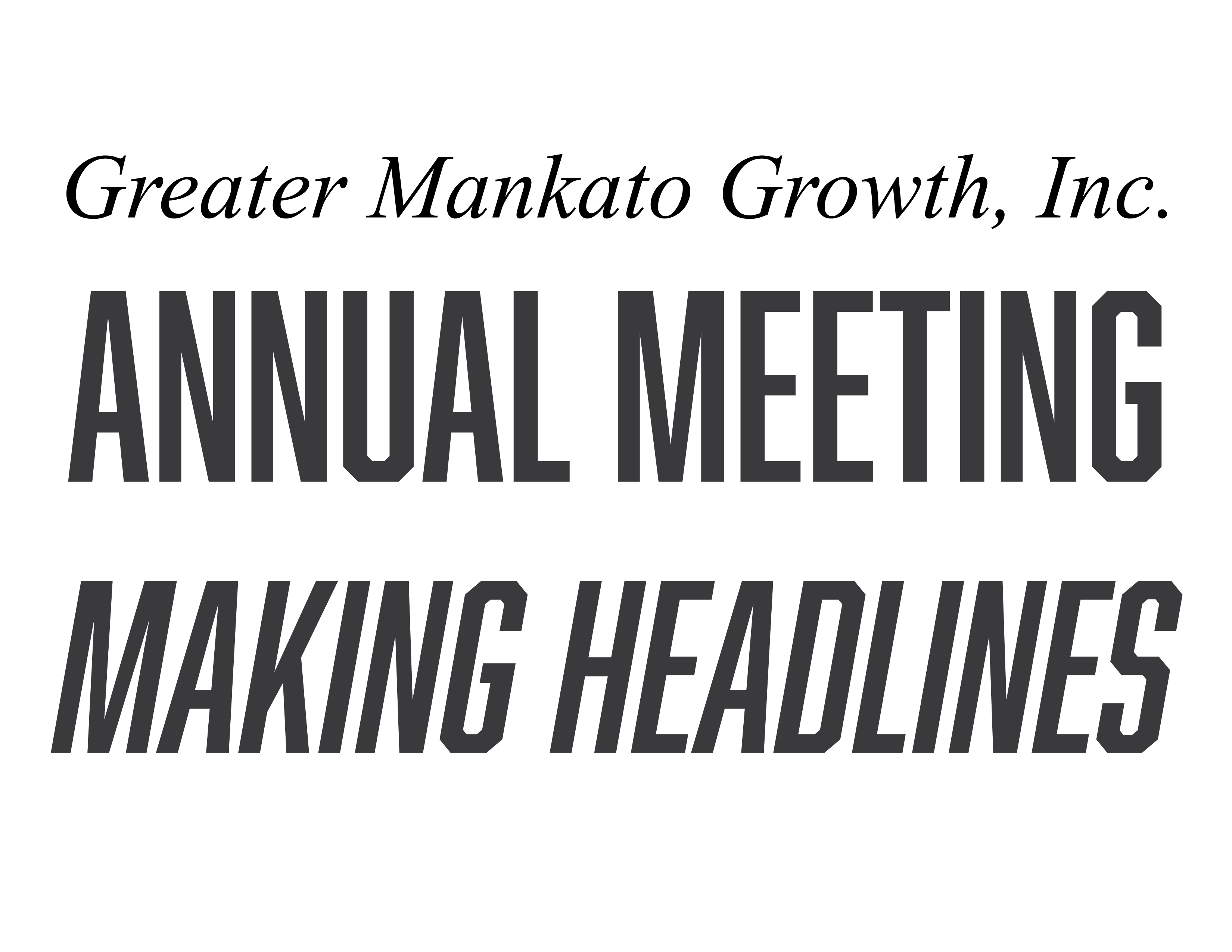 January is full of fresh starts, resolutions, new energy and motivation. For us at Greater Mankato Growth, the month is filled with work on new membership items, from ordering and mailings new clings and plaques to display at your business to changing and updating website information and printed materials. Others here are working on event planning, public policy priorities, business development and so much more. But, one of our most favorite things each January is when we get to honor individuals who helped make where we are today possible.
All three of our affiliate organizations, Greater Mankato Growth, Visit Mankato and City Center Partnership are successful and move forward because of our volunteers. It's through their dedication and expertise that we are where we all are today. It may sound a bit cheesy, but the adage "we wouldn't be where we are today without them" is entirely true.
The entire staff of Greater Mankato Growth, Inc. would like to thank our 2015 Volunteers of the Year of their commitment and passion to our organizations and the community.
Greater Mankato Growth's Volunteer of the Year, Nathan Hanel: Nathan Hanel has a passion and dedication to the Greater Mankato Young Professionals (YP) program that shines through his outstanding support and service. Nathan has been a member of the Young Professionals since its inception in 2008. He has served as chair of the Professional Development Committee for two years before becoming Chair in 2015. Nathan attends nearly every event, is dedicated to the program and reaches out to each and every new YP member. Nathan is a true champion for Greater Mankato Growth and the Greater Mankato Young Professionals.
Visit Mankato's Volunteer of the Year, Jay Reasner: Jay Reasner's desire to make our community a great visitor destination is clear through his involvement with Visit Mankato for many years. He has been a board member since 2013 and served as a committee member on numerous initiatives. Jay's passion, hard work and talents have helped shape the Vikings Tasting event, Visit Mankato's iKNOW program and the Mankato Marathon's popular finish line and newly redesigned celebration on Front Street. Jay's dedication to the success of the City Center and Greater Mankato in general has contributed to signature events and initiatives the community can be proud of.
City Center Partnership's Volunteer of the Year, Jim Whitlock: Jim Whitlock has been a tireless volunteer to promote City Center North Mankato, including organizing and managing several events which have significant impact to businesses on Belgrade Avenue: Blues on Belgrade, Bookin' on Belgrade, Bier on Belgrade and Bells on Belgrade. In addition, Jim has been the driving force behind the success of the Business on Belgrade organization. Jim's dedication and countless hours of volunteerism have definitely made a major contribution to the success of North Mankato and the City Center.
---
Award recipients will be honored at the Greater Mankato Growth, Inc. Annual Meeting on March 10 from 11:30 am — 1:00 pm, at the Centennial Student Union Ballroom at Minnesota State University, Mankato. This year's theme, Making Headlines, focuses on the organizations, members and investors successes of 2015 and goals for 2016. This is a member exclusive event.
To learn more or register for this event please visit greatermankato.com/annual-meeting.