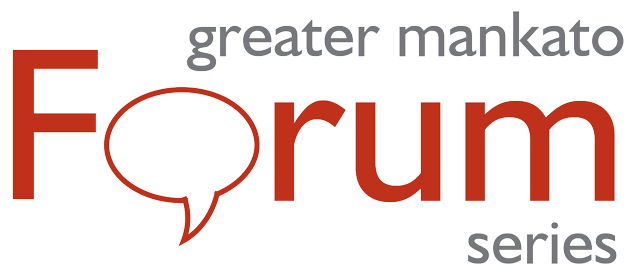 Join Greater Mankato Growth and your fellow colleagues for our May Public Affairs Forum Luncheon The Economic Necessity of Immigration Reform.
Wednesday, May 3
11:30 am – 1 pm
Minnesota State University, Centennial Student Union, Room 245
Hit read more for additional information.
While immigration gets a lot of (usually negative) attention from our national leaders and media, the simple fact is that in order to meet our workforce needs locally and across the state, it is imperative that we welcome immigrants and make them want to call Minnesota home. This luncheon will inform policymakers, businesspeople, economic development professionals and community leaders about Minnesota's upcoming workforce challenges and the importance of policy changes that will better support the role of immigrants and refugees in meeting those challenges. It will also highlight promising directions for public and private sector engagement to bolster Minnesota's future competitiveness.
Maura Donovan with the University of Minnesota and Bill Blazar with the Minnesota Chamber of Commerce will share the results of a recent U of M research report that shows the future strength of Minnesota's economy depends on attracting and integrating international immigrants into its workforce. According to the report, titled "Immigrants and Minnesota's Workforce," demographic trends "paint a troubling picture for the growth of Minnesota's economy," and the report notes that "a focus on attracting more immigrants is an imperative for Minnesota in order to address the challenges linked to the slowing growth of the state's population and labor force." In addition, Julie Rabaey with the U.S. Immigration and Customs Enforcement Agency will share her perspective on the state of immigration in our area and especially opportunities that exist with immigrant/international students serve as part of the solution to workforce shortages that we're experiencing.
There will also be time for Q&A so you can get your most pressing questions answered. You'll want to take this opportunity to attend and join in this important discussion.
This forum will take place at Minnesota State University's Centennial Student Union in room 245 (see a map).
Lunch will be served from 11:30 am – 12 pm and the program begins at 12 pm.
Greater Mankato Growth's Public Affairs Forum Series brings together compelling speakers and business leaders to discuss timely and relevant political and policy issues.
Speakers:
Maura Donovan, Executive Director, University Economic Development, University of Minnesota
Bill Blazar, Senior VP of Public Affairs and Business Development, Minnesota Chamber of Commerce
Julie Rabaey, Field Representative, Student and Exchange Visitor Program, U.S. Immigration and Customs Enforcement Agency