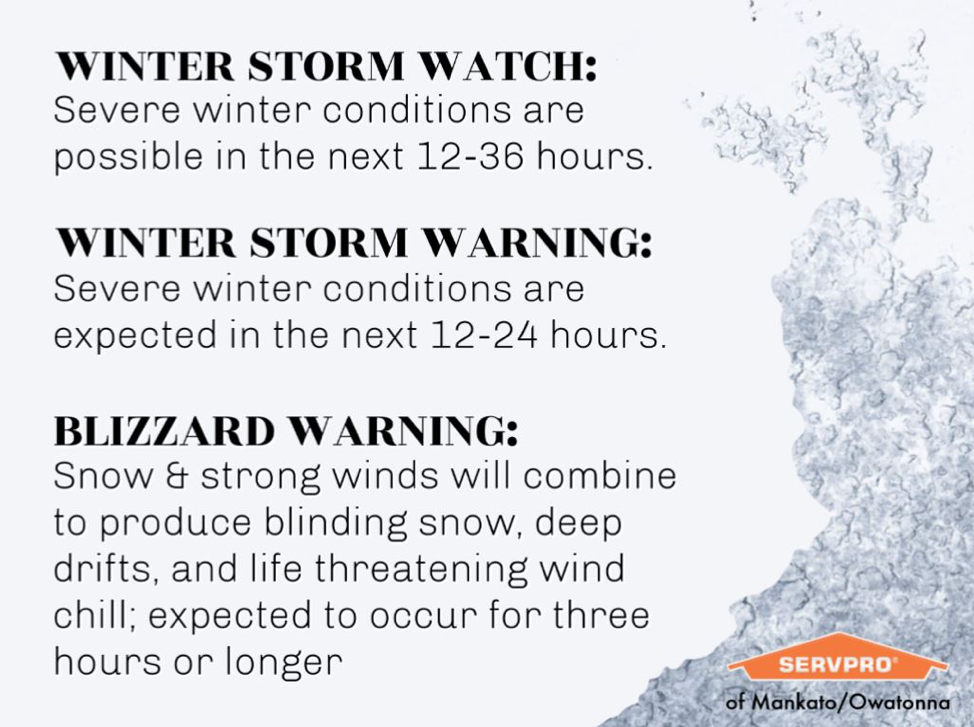 The following is a guest blog post submitted by Greater Mankato Growth member, SERVPRO of Mankato/Owatonna. The blog post is about being prepared for winter storms and how it's relevant for your business.

Are you part of a Greater Mankato member business and have an interest in writing a guest blog for us? Send 500-800 words to [email protected] or reach out to Greater Mankato Growth with further questions.
Preparing for severe winter weather may seem like second nature if you've been living in Minnesota for most of your life, but there are still some things that can be overlooked each year. It's a good idea to review tips and reminders every once in a while. Check out some of our tips on preparing for and staying safe during winter storms.
Communicate early and often.
Make sure your employees and customers are aware of incoming winter storms and what they should be prepared for. The earlier you can inform everyone of potential hazards and closings, the better. If your business will be closing during a winter storm for the safety of employees and customers, communicate this through several channels. Post on your Facebook, Google My Business, and anywhere else your customers look for updates from you. As the storm continues, so should your communication with everyone involved. It is also a good idea to have a plan for the customers that have not been informed and may still attempt to visit your business during a storm.
Have emergency materials ready.
If employees or customers are in your building during a winter storm, it is important to have a back-up heating source, emergency power, and supplies. Make sure your employees know where emergency materials are located and how to use them. In addition to survival materials (food, water, blankets, flashlights, first aid kit, etc.), your emergency kit should also include supplies to aid in getting out of the building once it is safe to do so (shovel, ice melt, sandbags, etc.).
Have an emergency plan for each possible threat.
Be prepared for power outages, fires, carbon monoxide, flooding, and any other disasters that may come your way during a winter storm. Have all relevant information in a central location that employees are aware of. Include information in your plan such as avoiding carbon monoxide poisoning when using backup power supplies. Your emergency plans should be thorough yet concise. If you aren't sure how to create or update your emergency plans, SERVPRO of Mankato/Owatonna is always Here to Help. Our team can help you develop an Emergency Ready Profile for free, as well as providing access to our Ready Plan app that allows you to access your plan at your fingertips wherever you are.