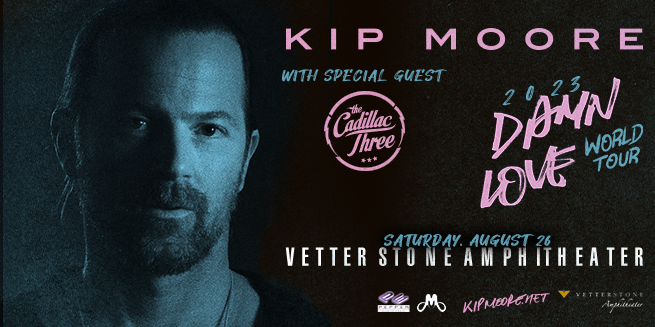 With Special Guests The Cadillac Three
Mankato, MN – Kip Moore is bringing his Damn Love World Tour with special guest The Cadillac Three to the Vetter Stone Amphitheater in Mankato on Saturday, August 26. Tickets start at $40.50 plus applicable fees and go on-sale Friday, March 10 at 10:00 a.m. Tickets are available at the venue box office or Ticketmaster.com
About Kip Moore
Known as "one of country's more thoughtful artists" (Billboard), Multi-PLATINUM singer/songwriter Kip Moore has toured the world earning acclaim and a rabid fanbase as an all-in performer in each setting, consistently selling out headlining shows internationally with huge followings in The U.S, The U.K, Europe, Australia and Canada. Praised by Noisey as "an uncompromising, genre-defying artist firing on all cylinders" Moore has blazed his own trail, with "a bit more Southern rock than traditional country… to be a Kip Moore fan suddenly became a marker of your having a certain refinement in your country-music taste" (Chicago Tribune). Moore first splashed into the mainstream with the double-PLATINUM "Somethin' 'Bout a Truck" in 2012, then followed up with three more best selling No. Ones ("Hey Pretty Girl," "Beer Money" and "More Girls Like You"), a trio of ambitious, critically-praised albums and two gritty EPs that landed Moore on multiple "Best Of" lists. Moore recently garnered resounding acclaim for his fourth studio album, WILD WORLD. The set, co-written and co-produced by Moore, was spotlighted by critics as "especially vital; occasionally, even rare," (Esquire). For more information visit kipmoore.net, and follow Moore on Twitter, Facebook, Instagram and TikTok.
About the Cadillac Three
A welcome interruption to the mundane and stress felt around the globe, The Cadillac Three launched surprise album TABASCO & SWEET TEA. A science project of sorts, the trio's chemistry expands with this sonic swirl influenced by The Allman Brothers, James Brown, Waylon Jennings and Queens of the Stone Age commingled with 80's Funk and Hip Hop production. TC3 has made a modern-meets-nostalgia record that evokes why Rock grooves eventually took over to become the mainstream and are still a critical ingredient in anything considered badass. There is something boisterous, yet good-natured about TABASCO & SWEET TEA that creates a freewheeling vibe stemming from skilled song craft and memorable instrumentation. Maybe it's a sign of the times this project is released now as playlists reflect listeners finding comfort in old favorites when times are tough. TC3 finds the common ground interweaving traditions of American popular music and proving that new can still feel classic without being derivative yet simultaneously casting a vision for good times ahead.