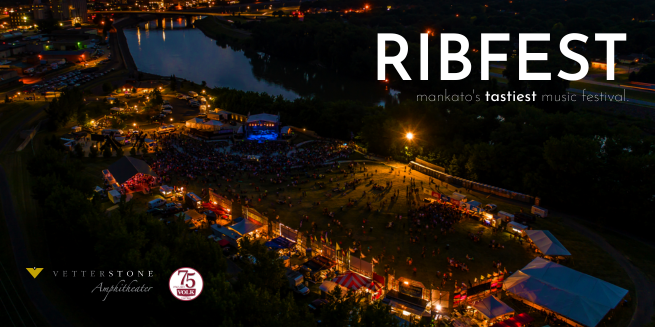 Come celebrate the 25th Anniversary of Mankato's Tastiest Music Festival this summer with iconic performers and mouthwatering BBQ from award-winning ribbers all over the US. Indulge in one of America's favorite meaty dishes at Ribfest, held annually every August at Riverfront Park and Vetter Stone Amphitheater in Mankato. Attendees can sample multiple rib recipes along with other barbecued meat while enjoying live bands during the event. Several designated kids' activities are on-hand each year with games, crafts and more.
The 25th annual RibFest full Lineup!
Thursday
5:30 PM Madam Driver
6:45 PM Viva Knievel
8:30 PM Hairball
Friday
6:00 PM BDE Boys
7:30 PM Too Hype Crew
9:30 PM Flo Rida
Saturday
1:00 PM Barefoot Winos
3:00 PM Power House
5:00 PM Chris Kroeze
8:00 PM Tenille Arts
9:30 PM Gary LeVox
Sunday
1:00 PM Red Dirt Road
3:00 PM Chris Hawkey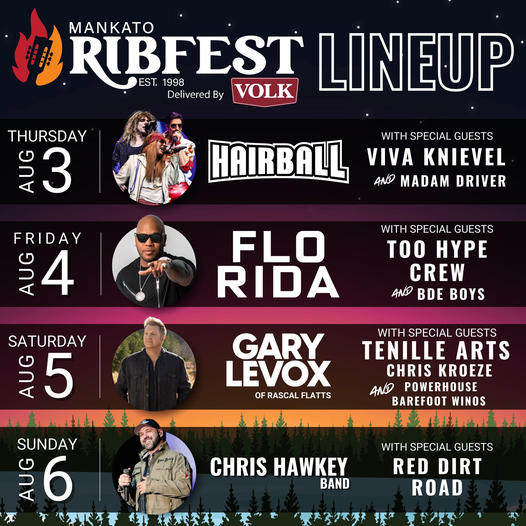 For more information, visit ribfestmankato.com
*Times subject to change.