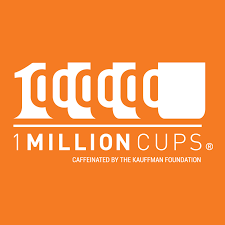 Based on the notion that entrepreneurs discover solutions and network over a million cups of coffee, the Kauffman Foundation developed 1 Million Cups – a free program designed to educate, engage, and connect entrepreneurs with their communities.
The Greater Mankato area is launching it's own chapter on November 1st.  Partnering agencies include Minnesota State University College of Business, the Small Business Development Center, SCORE, Greater Mankato Growth, business leaders, and many more.
On Wednesday mornings, one or two early-stage businesses present their companies to their communities. Every event is free and everyone is welcome and invited to attend!
Prior to presenting, the entrepreneur prepares by incorporating lessons from the Kauffman Founders School "Powerful Presentations" series, featuring Nathan Gold.
Each entrepreneur presents for six minutes, followed by a 20-minute question-and-answer session with the audience.
This is a great opportunity to engage in collaborative and honest conversations with like-minded people in your community.
The 1MC culture is supportive, inclusive and welcoming. You are encouraged to be open and honest about your business and the challenges you face. Everyone that attends 1MC is there to support each other in their entrepreneurial journey.
To attend or learn more visit:  https://www.1millioncups.com/mankato