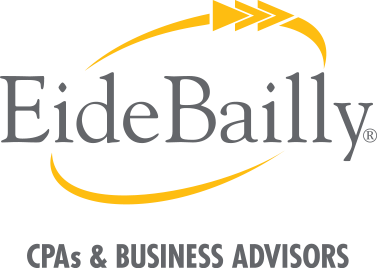 This is a guest blog post by Greater Mankato Growth member business, Eide Bailly LLP.
As economies reopen across the country, many organizations have turned a critical eye to how they should reopen in the wake of the next normal. In a time of great operational uncertainty, how organizations can reopen and reposition themselves in the marketplace effectively will be critical to their long-term success.
The effects of COVID-19 have been far reaching, and many organizations must look beyond simply unlocking the door and turning on the lights when they reopen. Rather, they'll have to reassess every aspect of their organization and focus and define their new identity in the new normal.
Ready to reopen your organization and move forward?
Key Considerations for Reopening
There's much to consider when it comes to reopening your organization. The following key considerations are essential for you to review and discuss as you map out a reopening strategy. Careful conversation and planning will be critical across all aspects of your organization.
Revenue Generation
What are your sales capabilities? How have these changed?
Have you done a sales forecast?
Have you embarked on an e-commerce strategy during shut down? How will this new business model play into your reopening strategy?
Have you forecasted various opening scenarios and how they may impact your bottom line and potential cash flow?
Risk Management
In the wake of remote working, how do you pull together your data?
How do you protect your organization against cyber risk?
How do you plan for the safety of your workforce?
How do you plan for the safety of your clients and customers?
Cost Control
Have you prioritized expenses?
Have you looked at your technology capabilities to streamline processes?
How has your supply chain been disrupted? How will you deal with these ramifications?
Real-Time Visibility
Have you strategically assessed your operational effectiveness and efficiency?
Have you looked at what types of processes can be automated?
How are you preparing for potential disruptions, such as a touchless environment?
Starting with a thoughtful review of where your organization is at and where you'll need additional preparation will allow you to make a deliberate step forward toward reopening.
Reopening your organization isn't easy. We've created a guide to help.
A Step-by-Step Guide to Reopening Your Organization
Reopening won't be easy. There are many steps needed to do it correctly and to prepare your organization for the long term.
We've developed a step-by-step guide to help you walk through a reopening plan for your organization.
The guide discusses areas of importance in your reopening plan, including:
Assessing various aspects of your organization, including liquidity, technology, sales, supply chain and more.
Managing risk through the reopen process, such as workforce protection and mobility, potential loss, cybersecurity and technology risk and supply chain issues.
Controlling costs by leveraging technology investments, managing cash flow, maintaining accounting records and prioritizing expenses.
Generating revenues by forecasting sales, discussing potential new organizational models and reviewing e-commerce considerations.
Creating real-time visibility into operations by making data driven decisions, automating business processes and reviewing operational effectiveness.
Making preparations to open safely and prepare for a touchless environment.
Has your business already reopened? Or maybe it never closed? Use these steps to pause, reassess and prepare yourself for a shift in focus.