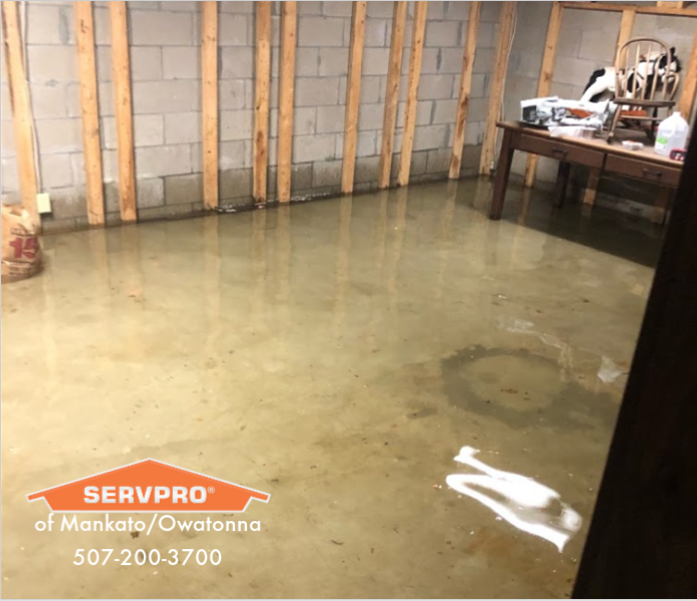 The following article was submitted by guest-blogger, Sydney Lovold. Sydney is part of Greater Mankato Growth member business, SERVPRO. Here, she shares tips of how to cope with the all-to-familiar basement flood. Are you a member business and interested in submitting a guest-blog post to Greater Mankato Growth? Send 500-800 words to [email protected] or reach out to Greater Mankato Growth with further questions.  
The dreaded basement flood. We all want to pretend those three inches of water aren't there and that the incident never even happened, but the longer you wait, the bigger the problem can become. Within the few minutes it takes you to wrap your head around what just happened, water is absorbed into your walls, floors, upholstery, and belongings. Furniture finishes may bleed, causing permanent staining on carpets, photographs, and books. Other paper goods start to swell and warp. In just the next 24 hours, drywall begins to swell and break down, furniture begins to swell and crack, a musty odor appears, and more.
Ignoring the problem for just 48 hours may cause mold and mildew to grow and spread (luckily, for those who do wait, SERVPRO's highly trained technicians can be your best friend in mold mitigation!). Between 48 hours and 1 week, your doors, windows, and studs swell and warp, metal begins to rust and corrode, paint begins to blister, wood flooring swells and warps, and serious biohazard contamination is possible. Waiting longer than 1 week increases restoration time and cost dramatically, and structural safety, mold growth, and biohazard contaminants pose serious risks to you and your family. Always keep safety in mind first, and make sure to evacuate when necessary.
Have A Water Damage Emergency? Call (507) 200-3700
Since SERVPRO of Mankato / Owatonna is typically on-site within four hours, calling right away can prevent some of this damage. While you wait for that bright green truck to arrive, there are a few things you can do if you have determined it is safe to remain in the house. Keep in mind that electrical and "slip and fall" hazards are some of the most prevalent concerns, and that wet materials can be very heavy. Only do activities that are safe for you to perform.
What To Do When Your Basement Floods
Remove excess water by mopping and blotting.
Wipe excess water from wood furniture after removal of lamps and tabletop items.
Remove and prop wet upholstery and cushions.
Place aluminum foil or wood blocks between furniture legs and wet carpeting.
Turn air conditioning on for maximum drying in summer.
Remove colored rugs from wet carpeting.
Remove art objects to a safe, dry place.
Gather loose items from floors.
What NOT To Do When Your Basement Floods
Don't leave wet fabrics in place. Hang furs and leather goods.
Don't leave books, magazines or other colored items on wet carpet or floors.
Don't use your household vacuum to remove water.
Don't use television or other household appliances.
Don't turn on ceiling fixtures if ceiling is wet, and keep out of rooms where ceilings are sagging.
Basement floods can really put a damper on things, but don't let it take control of your life, and don't wait to get help! Instead of waiting and pretending it never even happened, let SERVPRO of Mankato / Owatonna restore your home so it really is "Like it never even happened."