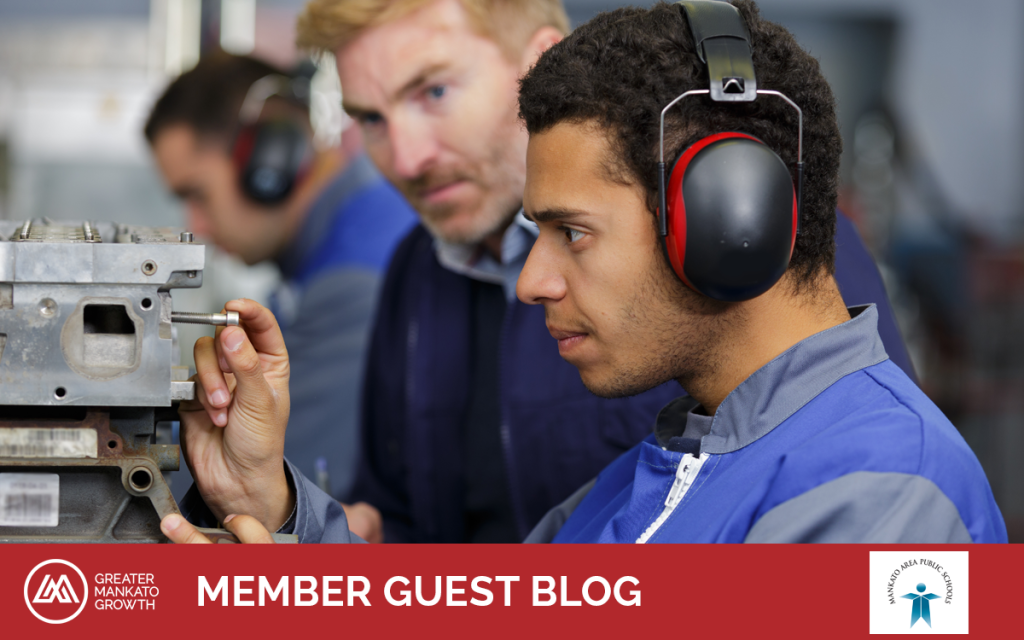 Mankato Area Public Schools (MAPS) is increasing career pathway exploration by encouraging students to participate in Work-Based Learning opportunities. All high school youth are eligible to participate in activities to explore and refine skills through this unique form of learning outside the classroom. We are excited that so many local businesses have opened their doors to help youth discover and explore their futures! Our options in work-based learning provide "layered learning" for students who need additional experiences to help shape their decisions. Some of these options are listed below; additionally, employers can choose from an array of 12 partnership opportunities by completing this survey:
Individualized Career Exploration Experiences
MAPS students are encouraged to participate in exploration opportunities before extended work-based learning. Below are some of the unique ways that employers can showcase their careers and companies:
Job Shadows
A traditional 1:1 shadowing experience exploring a specific career. Students provide their own transportation.
Career Interviews
A virtual shadowing experience for 1-3 students in a career field.
Career Forums
Employers visit the high school site to share information with a small group of students (2-10) who have identified a specific career pathway of interest.
Lunch & Learns
Targeted group of students who visit multiple industries and post-secondary instiutions throughout the year to learn about career fields and programming.
Mini Site Tours
Small groups of students (2-7) who have identified an area of interest tour a company to learn more.
Note: Other exploration opportunities for students include Classroom Speakers and Classroom Field Trips
Work Experience
MAPS believes that work empowers students to build career skills (soft skills) and knowledge to be quality employees and citizens. Students earn credits for their employment. Students are required to take a Career Planning course prior or in conjunction with their work. This is available for any student in grades 9-12.
Career Internship
A Career Internship is a paid or unpaid experience taking a deeper dive into a student's area of interest. Students earn high school credits through this model by taking career pathway coursework and then applying that skill and knowledge at a worksite helping them gain skills and experiences. An example of a career internship is our partnership with Mayo Clinic Health System. Mayo Clinic Health System Explorers are students who take a full semester to learn about a wide variety of healthcare careers by working in several departments in the Mankato Mayo Clinic Health System facility. From nursing to pharmacy, lab tech to information technology, students are seeing how their talents and interests can be applied almost anywhere. Students attend weekly seminars at the school to build their resumes and portfolios.
YOUTH APPRENTICESHIPS
These full-year or multi-year opportunities are for students who are highly motivated to work in a field. Currently, our youth apprenticeship programs are in Advanced Manufacturing. An example is our YEAP partnership (Youth Employment Acceleration Program). Students work for up to 2 years at a company, learning the various roles and responsibilities within the organization. MTU Onsite Energy, EI Microcircuits, Kato Cable, and Lindsay Window and Door are YEAP partners providing opportunities for students to take a direct hands-on approach to learning about the field of advanced manufacturing.
Last year–even with COVID–approximately 250 students participated in a work-based learning experience in the district. This number will likely grow as students move toward taking their learning in new directions and businesses continue to look for talent and consider why training the youngest of employees can benefit their organization. Through these experiences, students are developing a network of support that can help them long after they graduate. Students taking advantage of any of the work-based learning options are building their personal toolkit to be career, college, and life ready.
Thank you for your interest in learning more about partnership opportunities at MAPS, and again, if you are interested in partnering with MAPS, please complete the survey below.