This is a guest blog post by Greater Mankato Growth member business, Jones Metal, to accompany their Business Focus video: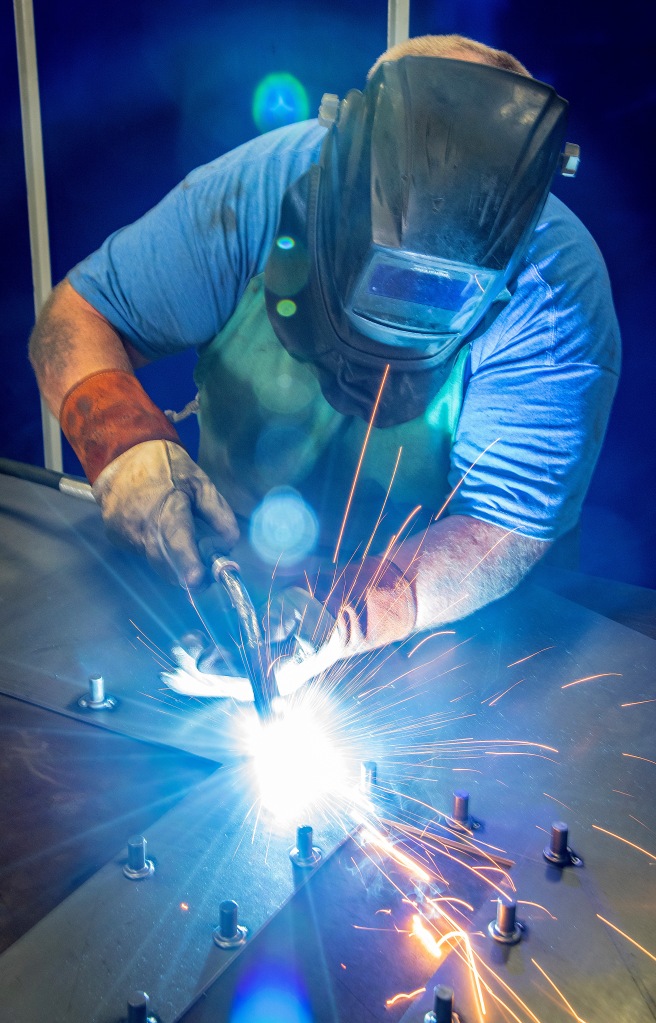 At Jones Metal, we have great pride in our history, our team, our position in the community, our design capabilities, our quality, our advanced technology as well as our relationships and customer portfolio. The Jones team is driven to stay at the forefront of new technology and customer needs; we like to be 2 years ahead of our competition.
Founded in 1942 by Mildred Jones, Jones Metal originally focused on roofing and HVAC projects but quickly evolved during WWII as a sheet metal fabricator supporting Kato Engineering (now a division of Nidec), a company owned by her husband, Cecil H. Jones. Cecil Jones was an inventor and successful entrepreneur (in 1952 he also founded Katolight Corp., now MTU Onsite Energy/a division of Rolls-Royce) who patented numerous inventions that Jones Metal helped design and produce over the years.
By the late 1950's the roofing business was phased out to focus on metal fabrication. At that time, Jones Metal was supplying fabricated parts to both Kato Engineering and Katolight Corp., as well as local farmers and individuals. By 1960, Jones Metal had expanded its customer base to regional businesses in other industries.
Today at Jones Metal we help: power the world, pave America's highways, feed the world, propel the US Navy, brand and move consumer goods, and help bring innovation to life by supporting companies that build the best products in the world. We do this by serving original equipment manufacturers in power generation, nuclear power generation, renewable energy, agriculture, consumer packaging, automation, communication, heavy construction, lifting, and automotive, to name a few and as a second-tier supplier to the US Military. We are very proud to say our quality products can be found around the world.
Now we are a certified (WBE) woman owned, ISO 9001:2015 registered, and process driven company. Currently owned by 3rd generation Jessica Richards-Palmquist, Sarah Richards, and David Richards the Richards' family is dedicated to keeping the momentum and growing the company.
Why choose Jones Metal, what sets us apart? Our commitment to the 3 P's: People, Performance, and Portfolio. Let's start with the Jones Team, we continually invest in training to increase knowledge and skills and to provide opportunities for growth to our team members. This means we operate safely and are cross-trained for agility, flexibility, and sustainable growth. Our people are by far the most important ingredient, responsible for quality, our success and thereby the success for our customers.
The Jones Team includes a design for manufacture/engineering group with outstanding experience. They assist customers with finding the best design for manufacturing at the highest quality and with successful reverse engineering. Customer support with honest and transparent communication is critical for success today and the Jones team delivers. Jones supports via sales, inside sales, estimating, engineering, quality, accounting, and production.
Our people steer the ship for optimal performance, and they utilize state-of-the-art technology to assist. In addition to investing in high-tech advanced production equipment, Jones Metal also pushes for innovation on the software side to aid in maximizing and improving our human workflow. We converted to a paperless system in late 2016. The system provides data that improves our flow, ability to track all product and capacities, schedule more accurately, pivot quickly, and further improves our quality management system. That all adds up to optimum performance.
The final piece to our success, the 3rd P, is a balanced portfolio. In the beginning and through 3/4ths of the Jones company existence, the majority of our business was focused on power generation, oil & gas, and agriculture. Naturally, with a portfolio like that we also faced steep peaks and valleys with the average downturn happening every 3 years. This was a growth limiting pattern that caused a lot of stress for our number 1 P: People.
Now we have aggressive, attainable goals to diversify the portfolio. The work is paying off and we are anticipating a steadier growth line with much softer economic peaks and valleys.
You will see the Jones dragon logo around town and may wonder why the dragon? "Jones is the most common Welsh surname. The official flag is a left facing red dragon with one foot raised on a white and green background. Using the dragon reflects the ethnic heritage of the Jones family name" notes Marcia Jones Richards, 2nd generation co-owner.
You can expect to see the Jones team involved in many community events and activities, volunteering time and treasure to local organizations and education institutions. We like to connect and win together.
Jones Metal has a long history and we are committed to a prosperous future. Utilizing top talent, technology, and a commitment to sustainable growth we are driven to stay ahead of the competition.
Sarah Richards President & CEO