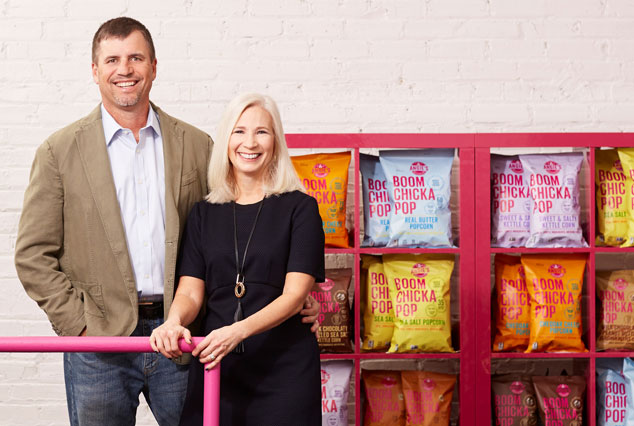 Greater Mankato Growth is pleased to announce that Dan and Angie Bastian will be the featured guest speakers at the fourth annual Journeys of Leadership on September 20. This annual dinner event spotlights leading business executives on the national and international stage in candid conversations about their road to success and insights on leadership.
Register now for what promises to be a fantastic evening.
Angie and Dan Bastian, co-founders of Angie's BOOMCHICKAPOP took a kernel of an idea and popped it into one of the fastest growing brands of natural popcorn. It started in 2001 when Dan and Angie bought a kettle online and began popping kettle corn at local markets, events and their garage.  What began as a college fund nest egg and a way to teach their children the value and integrity of work has grown into a business that attracted two rounds of Private Equity investment and a sale to Conagra Brands in the fall of 2017. It was their desire to make food that they felt good about feeding their kids.  Food that tastes great with real, simple ingredients and nothing fake. The brand Angie's BOOMCHICKAPOP is sold in all 50 states, Canada, Mexico, the Caribbean, Peru, Japan, Taiwan South Korea in natural food, grocery, club and major retail outlets.
In addition to sharing their respective journeys of leadership, Dan and Angie will offer attendees key lessons and insights from their extensive experiences in entrepreneurship, leadership, business strategy and transformation, as well as their perspective on managing family dynamics in a family-run business to draw upon each other's strengths to be successful. In addition, they will offer their thoughts on the dynamics, challenges & opportunities shaping their industry and how they're responding. Attendees will also have the opportunity to engage in a Q&A with our guests.
Your attendance at this event will directly support Greater Mankato Growth's public affairs efforts to raise the visibility of our regional center and its importance to the state among state leaders and centers of influence as well as create awareness among our members, the community, and public officials about public policy matters affecting the community.
Sign up now, as seating is limited to the first 100 attendees.
Evening Schedule
5:30 – 6:30 pm | Reception and Social Hour
6:30 – 7:00 pm | Dinner
7:00 – 8:30 pm | Program with Dan & Angie Bastian – Moderated by Jonathan Zierdt