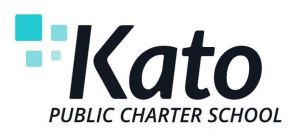 With the Greater Mankato Growth Talent Initiative and local efforts regarding talent attraction and retention (like moremankato.com), we feel it is critical to share important and helpful information to further mobilize the community around the workforce shortage. Read more for a guest blog post submitted by the Kato Public Charter School Board Chair, Brent Rossow.
Mid-June: the time of year when kids are finally settling into their summer routines, parents are wondering once more how (or if) they'll survive the next two and a half months, and teachers are taking a deep breath before steaming into preparation for the next school year. At Kato Public Charter School, we're laying the groundwork and getting the right staff in place for important changes coming in the fall – changes that will continue serving our current students but also support a wider range of student interests and needs. To accomplish these changes, we urgently need full community support.
Kato Public Charter School is, first and foremost, a public school – not a private school, not an alternative learning center – and we currently serve around 70 students in grades 6-12 who come to KPCS for many different reasons. Typically, they've been either under-served or uncomfortable in their previous schools, often due to large class sizes, bullying, inappropriate pacing (too fast or too slow), different learning styles and other factors. With our small class sizes and non-traditional approach to learning, we provide a welcoming environment where our students can learn in a setting and at a pace appropriate to their needs.
In 2018-19, KPCS is adopting a new research-supported curriculum and the twist is — we're integrating a vocational component we believe is unique to the area and directly meets needs that have been overlooked for too long. Students school-wide will be offered opportunities to learn skills, make connections, explore careers and prepare for life after high school. Younger students will hone their soft skills ("people skills"), while older students may choose to engage in job shadowing, apprenticeships and/or other career-related activities in our community. They may find a passion that leads them to post-secondary education or they could make connections and learn skills that make them valued employees right out of high school.
To do this, KPCS needs to fill key roles ASAP. Our most immediate need is board members, preferably with experience in curriculum and instruction, management, finance, law, human resources and/or public relations. One board seat is open now and at least a couple more will become vacant on/around July 1.
In the classroom, we need two good special education teachers and have positions posted for all core curriculum areas. (We have returning staff but want to ensure all areas are covered optimally.)  Under legislation effective July 1, those holding at least a bachelor's degree (in any area) may be eligible to teach (see Tier 1 licensure info from Education Minnesota and Professional Educator Licensing and Standards Board).  If you have experience in one of the core curriculum areas but hadn't previously considered teaching, we'd love to talk to you.
Two new positions include a Work-Based Learning Coordinator to oversee the vocational program and an Instructional Design Coach who will lead implementation of the new curriculum and play a key role in teacher hiring and oversight.  Other open leadership positions include Director and Business Manager, with specific responsibilities TBD depending on board direction and available candidates.
More information can be found on the KPCS website, in our hiring notice and "at a glance". Time is of the essence and KPCS needs the community just as much as the community needs us. Send an email or call to get started:
See also the school website at www.KatoPCS.org, and follow us on Facebook at Facebook.com/KatoPCS.