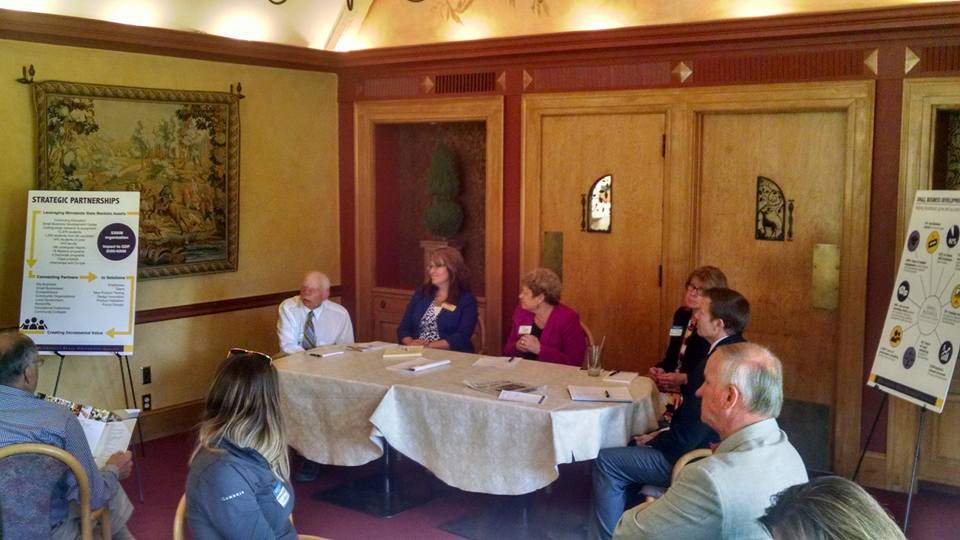 Last week, Greater Mankato Growth collaborated with the City of Le Sueur Economic Development representatives to convene resources from South Central College and Minnesota State University, Mankato for manufacturing businesses.  Several of the community's major employers were in attendance including Cambria, Le Sueur Incorporated, Seneca, and Bimeda.
The focus of the conversation was around workforce: specialized training, continuing education and apprenticeships/internships. Both post-secondary institutions have great resources for the manufacturing sector. Many of the businesses in attendance have worked with them in the past and are looking for new ways to leverage the capacities of South Central College (SCC) and Minnesota State University, Mankato.
SCC is home to the Center for Business and Industry (CBI).  They are the primary way for businesses to connect with the college and access all the training opportunities they have to offer. And there are a lot of training opportunities. On average, CBI trains over 13,000 people annually. Many of these people are working to stack multiple accreditations to obtain higher earning potential in the future…while growing with their employer. On June 6th, SCC's truck driving certification is beginning in partnership with Riverland College.
The Strategic Partnership Division at Minnesota State University, Mankato works with SCC on training, as well as offers other resources. They are self described as being "bilingual", meaning they can speak both "education" and "business". The team in Strategic Partnerships can connect your business to any department (at the University) and can come right to your front door to set it up.
Was the presentation by SCC and Minnesota State University, Mankato a success?  Well ten minutes into the program, as the first speaker wrapped up a business leader raised their hand and said "This is really good information! Can we talk after the meeting?"
They're hitting the ground running in Le Sueur.