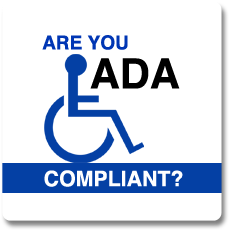 As you may be aware, hundreds of abusive lawsuits have been filed in the past two years both in federal and state court targeting Minnesota small businesses over alleged violations of the Americans with Disabilities Act (ADA) and the MN Human Rights Act. In the Greater Mankato region, more than 70 businesses have had suits filed against them. This continues to be an ongoing issue as several local businesses were served lawsuits just recently.
While Greater Mankato Growth is partnering with the Minnesota Chamber of Commerce to enact legislation that would help prevent these abusive lawsuits, the best protection that a business can have against these suits is being in compliance with the law.
The Minnesota State Council on Disability provides access compliance resources, including self-audit checklists, so our business community can take proactive measures to be in compliance with the law.
Your key resource is the Minnesota State Council on Disability's Building Access Survey, which is their ADA self-audit. You'll see two documents contained on this linked page. The first is a "complete" version of the self-audit and the other the "short version" that hits the highlights for the most common areas of public accommodation. Both allow an individual to "self-audit" their business in a clear, step by step manner so they can ensure they are compliant with the ADA's specific measurements/requirements.
The Minnesota Chamber of Commerce also has an ADA compliance page with great resources and information.
Greater Mankato Growth can also help you get connected to the Minnesota State Council on Disability if you'd like to have a professional compliance specialist audit your building. You can contact Patrick Baker at GMG.