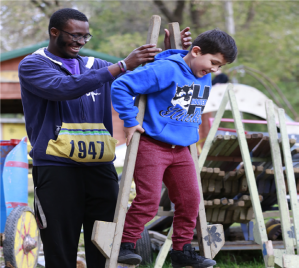 Learn more about the YMCA's Mentoring Programs through this guest blog post from Allison Braswell, Brother/Sister Program Advocate and Recruitment Coordinator. As we reach out to serve the greater community during the pandemic, our continued efforts are bringing comfort and stability to our youth.  The "not to be forgotten" story, tells how the mentoring program ensured that over 200 youth in our community were still cared for.  Even though the early stay at home order suspended the in-person mentor/mentee weekly match meetings, we successfully found a solution, so mentors were still contacting their mentees to let them know they were not forgotten.
There are many issues in our community that the YMCA is addressing as a socially responsible organization; however, without mentor volunteers we stand a chance of not supporting the youth in our community who need it most.  We need your help to keep the Brother/Sister and School-Based mentoring programs strong. Our intention is to meet every commitment and provide the youth in our community with the qualified quality mentors.  Your support is key in solving this problem.
What our mentors are saying….
"Having the opportunity to change a child's lifestyle for the better not only impacts the "little", but also the mentor. Being a mentor decreases the changes of a child making negative choices and allowing them to learn more about themselves and who they are as a person. Mentors gain skills in their cultural competency and charismatic approach when learning about different age groups and how all families live different lives." -Sarah
"My experience with being a mentor has changed my life in many ways. I have been able to help my mentee overcome different situations at school even though I may not be present at the time of the event. My mentee has been able to open up about school and family situations. It makes me feel good about myself know that she has so much trust in me." – Nicole
"I find joy in helping my match experience happiness and freedom. Our time together is a step away from the stressors in life. This experience has showed me how important a role model can be to one child." – Ben
"Mentoring has taught me that a simple gesture can have a great impact. It has also taught me listening skills and how to communicate with people younger than me that are not part of my immediate family." -Cory
Volunteer Opportunities
Adult Brother/Sister volunteer mentors who commit to a relationship of 2-3 hours a week for 9 months. We especially need male adult mentors. For more information about how to apply, contact Allison Braswell, at

[email protected]

or 507-386-2705. You may also visit our website at https://mankatoymca.org/brothersister-mentoring/ .
School-Based Mentoring pairs Mankato area public school students with adult mentors. For the 20-21 school year, the program has shifted to a Pen Pal program. For more information about how to apply, contact Chriss Page, at

[email protected]

or 507-386-2704.
View a short video to learn more about how to become a mentor.